---
On 5th May 2022 two representatives from John F Hunt Ltd, Civil Engineers Marc and Andreas, visited Prior Weston Primary School, London EC1 as part of their local community engagement initiative.
During their visit they carried out a presentation to raise awareness on both Demolition and Construction with the intention to inspire the younger generation to opt for an engineering related career. The presentation covered site safety, equipment, how to keep the community safe from demolition works and examples of engineering marvels. John F Hunt Ltd also donated programmable LEGO kits to be used by the children as a learning platform and some engineering goodies donated by the IDE.
Dawn Dias, Pupil Premium Champion from Prior Weston Primary School commented on their visit within their school newsletter: "Civil Engineers Marc and Andreas talked to us about graduating from university (with Civil Engineering Degrees). They now work on demolition sites. In a highly visual and interactive assembly, these professionals explained how sites are made safe and impact on the community is minimised. Consideration is given to scaffolding, tools, trip hazards, holes, falling items, etc. Machinery functions were explained e.g. excavators and tower cranes. Operatives are kept safe with protective clothing, helmets, high-viz jackets, safety boots, hard hats and glasses. Demolition start with 'engineer sequence drawings' which are applied to reality. We really enjoyed watching a video of a demolition and playing 'Spot the Hazard'! We were amazed by pictures of fascinating architecture e.g. 'The Dancing House' in Prague and London's 'Walkie Talkie'. Imagine our excitement when Marc and Andreas presented us with Lego kits to promote programming skills! John F Hunt has also donated other gifts from the IDE e.g. rulers, flasks…things that engineers use. A huge thank you to John F Hunt for their generosity. Marc and Andreas were phenomenal!"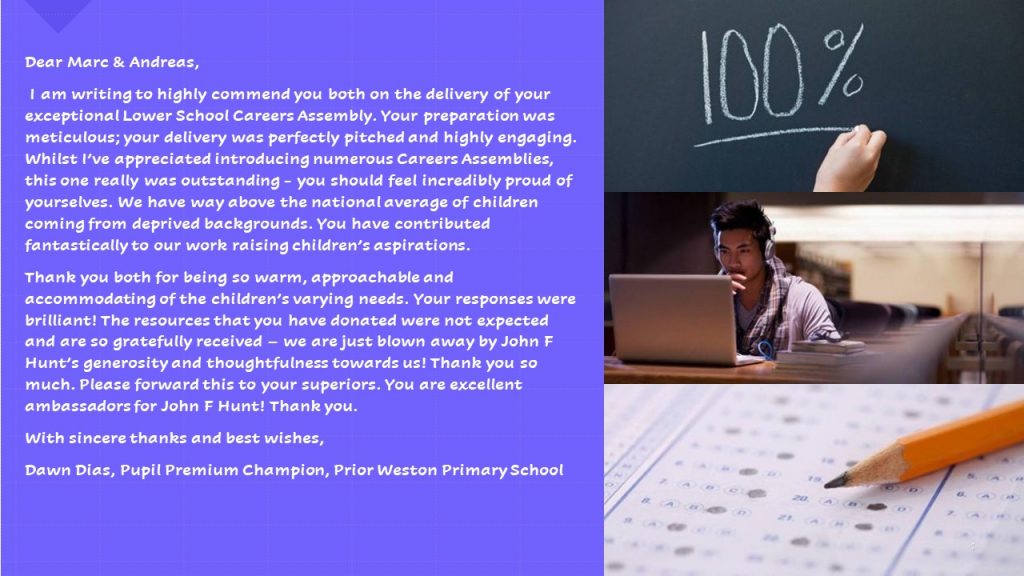 In this story
Active

This member is fully compliant with NFDC audits and legislations.
---
Specialists since 1982 in technical engineer led demolition, soft strip, enabling, temporary works, asbestos removal & concrete cutting, to deliver multi-dimensional structural projects nationwide.
Originally published May 12, 2022 12:32:00 PM, updated July 22 2022.